Picnik is a free online tool, that allows you to edit photo and images freely. Using Picnik photo editing is easy and fun to use Now let's give a look how to edit photos and images by picnik software.

Picnik Photo Editing: How to Upload a Photo
The first step to do to upload a photo that will be edit by picnik is, obviously, going to the
picnik home page and then clik on the big green button "Get Started Now".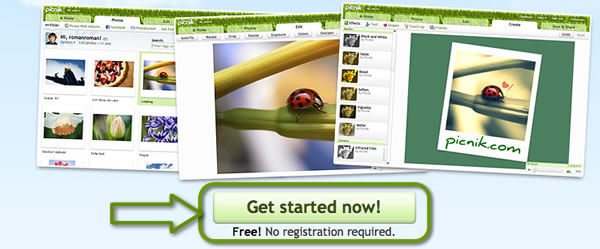 Once clicked the button, the software will run in loading mode, picnik main page will appear in few seconds. In the left side of the page, will appear a new button. Just click again on the button called Upload a Photo, and than browse through your files and select the file to upload.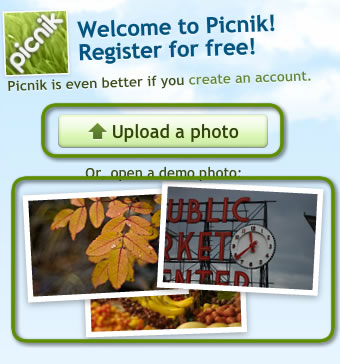 If you don't want to use your personal photos, but you simply desire to try picnik effects, you can open a demo photo choosing it among the three ones you can see under the green button.
The Photo will be loaded in few seconds, and placed in the main working area of picnik as shown Below.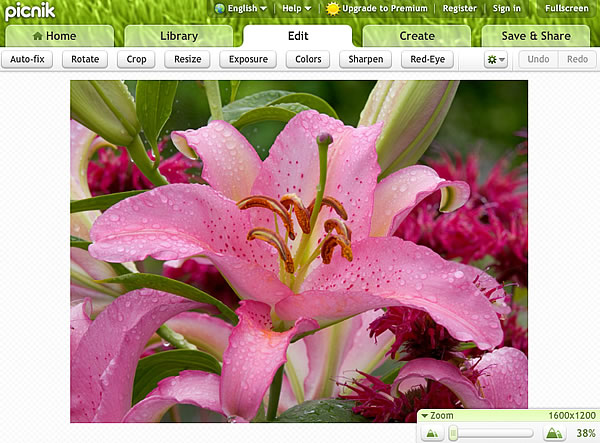 Picnik Photo Editing: Edit Menu Effects
Now, it's time to start using all picnik photo editing powerful tools. The main tools you can find in Edit Menu are:
Auto-fix: Picnik will automatically fix contrast, saturation, etc of your photo for a more natural look
Rotate: Rotate and Flip your photo 90° on left or right
Crop: This tool literally cuts unwanted edges of a photo, choosing and saving only a particular area.
Resize: Your photo is too big ? Nevermind, this tool will resize your Photo in seconds.
Exposure: Correct Exposure and Contrast of the photo using the sliders.
Colors: This effect has two main option, the first one is auto-color that corrects automatically the colors of your photo, or just use the slides to correct them manually.
Sharpen: Corrects the sharpness of your photo easily
Red-Eye: This is a very useful tool, tired about photos with ugly red eye effect? Well, fix it using this tool! You can also remove Red-Eye effect in Pet's Eyes.
Picnik Photo Editing: Edit Menu Effects Video Tutorial
Picnik Photo Editing: Create Menu Effects
All the effects you have seen in this video can be found in picnik Edit Menu. Now let's give a look to the effects that can be found in Create Menu.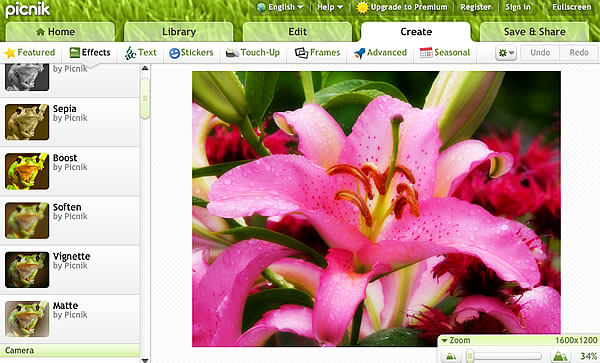 This Menu contains all effects that can be applied to your photos and they are divided in categories. These categories are:
Featured: This category inlcudes all the new effects recently added to picnik
Effects: The Main Category that includes all color effects, filters, etc.
Text: Add Text to your Photo, chosing colors, font, size etc.
Stickers: Choose a Sticker and stick it on your photo.
Touch-up: Picnik can be your personal Makeup Artist too, in this category you can find all the effect that you can use to makeup your photos
Frames: Adds fantastic and vivid frames to your photos turning it in a wonderful picture
Advanced: take control of all the features of the photo chaging curves, and levels
Seasonal: this catecory includes special effects and filters relating to different events or holidays such as New Year Eve, Holiday, Thanksgiving, Halloween and much more.
Picnik Photo Editing: Create Menu Effects Video Tutorial
Picnik Photo Editing: Picnik addons Download

If you want to have all picnik features ready to use, you can download picnik addons and plug in, specifically designed for your Browser. These Addons and Plugins add a new item to "right click menu" to send automatically a picture found on the web directly to picnik.
Addons and Plug-ins are designed for the Following Browsers: Firefox, Explorer, Chrome.
Just Click Below to download them.

So, I hope this post will be usefull to you, and don't forget to share it with your friends on Facebook, Twitter and Google+ !

Translated from the original picnik modifica foto